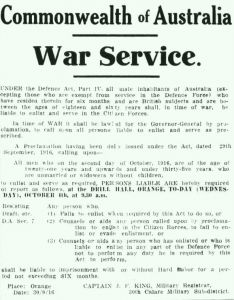 Single men between 21 and 35 years of age are urged to report to the Drill Hall for home defence training. Today's The Day
The Southern Cross Tobacco Fund urges the people of Orange to donate to their fund to supply troops at the front with tobacco. They claim: "a cigarette or pipe of tobacco buck up the men wonderfully" and that troops "would rather have a smoke than a meal". Tobacco For The Troops
Wet weather postpones Allied operations on the Somme
The Romanian Second Army retreats, evacuating Fogaras in Transylvania
Romanian troops make progress in in the Dobrudja province
Allied forces reach Kenali, just ten miles from Monastir
British troops advance towards Seres on the Struma
British transport ship HMS Franconia is torpedoed without warning and sunk in the Mediterranean Sea off Malta. Twelve of her 314 crew are lost; HMHS Dover Castle rescues the survivors.
French merchant cruiser Gallia is torpedoed in the Mediterranean near San Pietro Island, Italy. Gallia sinks with the loss of 1,338 of the approximately 2,000 people on board.