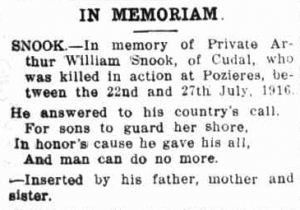 Day 1090 of the war
Arthur William Snook's family observes the anniversary of his death in action in the Battle of Pozieres
Leslie Edward Pearce Dartnell, son of the Orange postman, describes his recent trip to Paris as "one of the best holidays I have ever had". He concludes his letter with a description of the Australian camp near Le Havre:
It is a beautiful picture I look upon from out the office door… The Divisional Band is playing to a crowd of our boys, who are lolling about on the green grass. Then to the right a little way another group are playing cricket. Further away are the white tents showing up against the green grass, and then in the back-ground are the green fields and lovely foliaged trees on the hillside. No one could imagine a more beautiful and peaceful scene. War is certainly not in the air. I suppose my time is drawing very close now, and I will soon be up to the line.. I think the division is moving up Armentieres way again. I hope so, anyway, for the Somme is an awful graveyard of a place.
William Henry Bowers, a former printer with the Advocate writes home to say:
I was in a "scrap" with the Germans on May 15th on the famous Hindenburg line, and I was just enjoying the fun when I stopped one on the right hip, the bullet finding an outlet in the fleshy part of the stomach, just missing the vital parts. Another inch and I would have been "gone."
Russian troops on the Eastern Front continue their retreat in Galicia