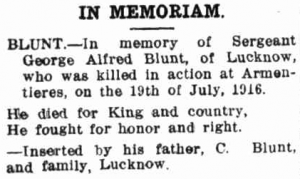 George Alfred Blunt's family observes the anniversary of his death in the Battle of Fromelles
James John Fleming enlists. James is commemorated on the Centenary of WWI in Orange Honour Roll; he would be killed in action in France on 20 June 1918.
German troops on the Western Front launch attacks south of Lombartzyde, south of St Quentin, and north of the Aisne
German forces on the Eastern Front launch a counter-offensive, piercing Russian positions east of Zloczow near Lemberg
Allied troops in Palestine drive back a Turkish cavalry force west of Beersheba
British troops in German East Africa attempt to seize enemy water holes at Narungombe, and quickly became embroiled in fierce fighting. Both sides experience heavy casualties.