Aboriginal and Torres Strait Islanders are warned that content on this page may contain images and references to deceased persons.
Warren born Thomas Rine [William Riley] enlisted in Orange in May 1917. He was working as a labourer in Dubbo at the time. He was one of nine known Aboriginal servicemen with a connection to Orange.
Rine joined the June 1917 Imperial Camel Corps Reinforcements, embarking from Sydney on the SS Canberra in November 1917 and disembarking in Suez the following month. He served in Abbassia and Moascar in Egypt and retuned to Australia in October 1919.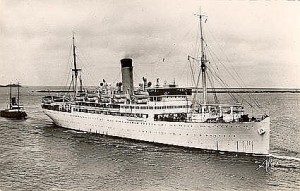 SS Canberra
Imperial Camel Corps, AIF, June 1917 Reinforcements, embarked from Sydney aboard SS Canberra on 16 November 1917.
Image courtesy Clydebuilt Ships Database.