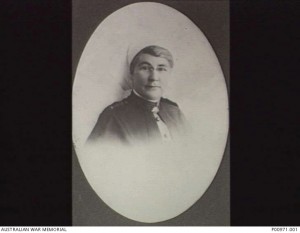 Matron Rose Creal
Image courtesy Australian War Memorial
Rose Ann Creal was born on 3 November 1865 in Young to Irish-born miner John Creal, and his wife Ann. Young Rose was home-schooled by her father and began work in a small hospital in Parkes aged 16. The matron there realised her potential, describing her as "a diamond of the first water", and securing her a position at Sydney Hospital. By 1891 Rose had become head nurse, and by the end of the decade she was matron and a founding member and councillor of the Trained Nurses' Association of New South Wales.
Matron Creal enlisted for war service on 14 August 1916, nominating her sister Elizabeth ('Bessie') in Orange as her next of kin. She arrived in Suez on 20 September and was appointed matron of the 14th Australian General Hospital at Abbassia, Egypt.
Conditions at Abbassia were primitive and extremely challenging, with casualty rates from the battle of Gaza rising to 1,140 and nurses working 18 hour shifts in an attempt to manage the work load.
In recognition of her efforts Matron Creal was awarded the Royal Red Cross, 1st class, in the 1919 New Year honours. In August and September of that year she completed an elocution course and tour of hospitals in England and Scotland "with a view to becoming conversant in the latest methods employed in these countries… This experience should prove of the utmost value to her in the discharge of her duties as a matron, both as regards administration and lecturing."
Matron Creal returned to Australia in January 1920 and resumed her position as matron of Sydney Hospital. She died in August the following year following an attack of appendicitis. She was accorded a full military funeral at St James Anglican Church in Sydney on Wednesday 10 August 1921. It was the largest funerals seen in the city for some time, with hundreds of people lining the streets outside the church. Her coffin was mounted on a gun-carriage, draped with the Union Jack, with her nurse's cap on top.
Sydney Hospital established the Rose Creal Medal in her honour; it is the highest award for students of the Lucy Osburn School of Nursing.
Sydney Morning Herald, 11 August 1921, p. 7.
Late Matron Creal: impressive funeral, military honours