'Jack' Moylan had been a policeman in Orange for several years before the First World War.  Born in Crookwell, Constable Moylan was stationed at Rylstone when the war broke out.  According to the Leader, Moylan asked his wife Nellie "'I stand between love and duty, which must I obey?", to which she replied "Duty! Do your duty, then come back to me".
36 year old Moylan had been a Trooper with the NSW Lancers during the Boer War.  He enlisted in Sydney in September 1914, joining the 1st Light Horse Regiment for training at Rosebury Park.  He embarked HMAT A16 Star of Victoria at Sydney on 20 October 1914, disembarking in Egypt on 8 December 1914.  Private Moylan was admitted to No 1 General Hospital at Harefield in England in August 1915 suffering from dysentery.  He was hospitalised for two months, rejoining his unit in October.
In January 1916 Moylan was promoted to the rank of Captain, and was awarded the Military Cross on 4 June 1918.
On 23 November 1918 Captain Moylan was admitted to hospital, dangerously ill, suffering from pneumonia and nephritis.  He died on 28 September and is buried in Gaza Military Cemetery in Palestine.  His widow died in November 1922 at Bathurst.
Jack Moylan is commemorated on the World War I Roll of Honour on the southern face of the Orange Cenotaph.
In 1923 the Anzac Memorial Avenue of trees was planted along Bathurst Road to commemorate fallen WWI soldiers. A tree was planted in honour of "Capt BJ Moylan"; it was donated by Flynn and Leggo. Very few of the trees are still standing today.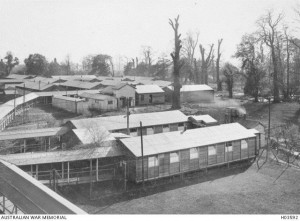 No 1 Australian General Hospital, Harefield, England, where Moylan was hospitalized in August 1915. Image courtesy Australian War Memorial.