Aboriginal and Torres Strait Islanders are warned that content on this page may contain images and references to deceased persons.
Joseph Harris was born in Peak Hill in 1892. He was living and working in Wellington when he enlisted in Orange in April 1918, aged 26. He trained at the Recruit M. & D. Depot in Liverpool and joined the Light Horse Regiment in late May. Trooper Harris embarked from Sydney in June 1918, arriving in Suez the following month. Harris served with the 14th Regiment of the Australian Light Horse in Moascar, Egypt, returning to Australia in August 1919.
Harris was one of nine known Aboriginal servicemen with a connection to Orange. He was unable to read or write, and signed his attestation papers with an "X". He gave his address as "Town Common, Wellington". The Wellington Town Common is a 183-hectare parcel of land on the Macquarie River that was the traditional home of some 70 Wiradjuri families. In 1994 a group of Wiradjuri people lodged a native land claim, the first on mainland Australia. In November 2007, following a 13 year battle the Common was returned to its traditional owners. This was the first native title claim in NSW that resulted in a group of claimants winning resaleable and leasable freehold title. The Wiradjuri Wellington Aboriginal Town Common (Aboriginal Corporation) now owns the land.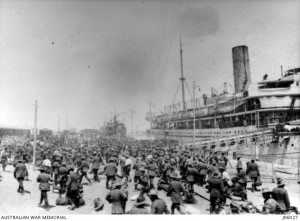 The 14th and 15th Australian Light Horse Regiments embarking for Australia on the troopship Dongola, at Kantara, Egypt, 24 July 1919.
Image courtesy Australian War Memorial