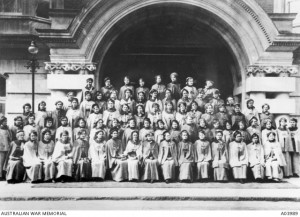 Members of the Australian Army Nursing Service outside the Ivanhoe Hotel in London c1916. Florence Lewis is in the 4th row, 4th from the left. Image courtesy Australian War Memorial.
Florence Laura Lewis was born in Orange in 1888 to Edward and Rhoda Lewis. Florence was nursing at Royal Prince Alfred Hospital in Sydney prior to her war service. She enlisted in July 1915 and served initially on transport duty. She subsequently served in France, where she met the Irish-born Major Michael Fitzgerald, a widower, who had enlisted in the AIF and served in Gallipoli. Nurse Lewis resigned her appointment and married Michael in Dublin in September 1919.
Michael and Florence retuned to Australia and settled in Goulburn. They had seven children, two of whom died in infancy.
Florence died in Strathfield, New South Wales, on 14 June 1976, aged 88 years. She is buried in Rookwood Cemetery.