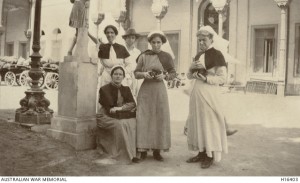 Four nurses of the Australian Army Nursing Service at No 2 Australian General Hospital which was based in Gezireh Palace, Egypt c1915. Sister Stone is on the far right. Image courtesy Australian War Memorial.
Constance Adelaide Stone was born in Berrima in 1879 to Henry and Augusta Stone. Constance's father  was well-known in Orange as a postal guard. 35-year-old Constance was living with her family at 35 Lord Street when she embarked from Sydney in November 1914 as a staff nurse with the 2nd Australian General Hospital.
Nurse Stone was promoted to Sister in June 1915. She served initially on hospital ships travelling to and from Australia, and later in France and England. In May 1919 she was awarded the Royal Red Cross. She returned to Australia in August 1919.
Constance was Matron of Ardee Private Hospital in Kite Street, Orange, during 1920. She subsequently relocated to the Northern Territory, where she was acting Matron of Darwin Hospital until October 1924, and then Matron of the Darwin public clinic.
In the June 1934 King's Birthday Honours Constance was awarded an M.B.E. in recognition of her war services. Her name appears on the Holy Trinity Church Orange Honour Roll.
Australian Women's Weekly, 15 Dec 1934, p. 35.
Intimate jottings