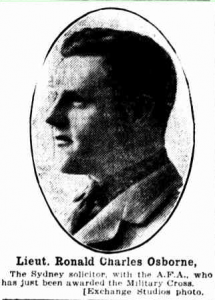 The Leader reports that Orange solicitor, Ronald Charles Osborne, of the Royal Artillery has been awarded the Military Cross for maintaining communications under heavy fire. They Say
Orange sends 950lbs (431 kilos) of jam to the Red Cross Society in Sydney in response to the recent appeal for jam for soldiers fighting overseas. This amount is almost double the town's original pledge of 500lbs (227 kilos). Red Cross Work
Senussi tribesmen evacuate Siwa Oasis in West Egypt as British soldiers occupy the oasis and capture Munasib Pass, cutting off the enemy retreat
I was in Westminster Abbey yesterday morning with a Mrs. Boyce, from Sydney. We saw one tomb dated 686, a King of the Saxons, in the older part even inside the stone is weathered away and on some of the older tombs the inscriptions are not legible. There was a morning service there and they were intoning the prayers. It sounded beautiful echoing round the corridors. It is pretty cold here. I have felt it quite as cold in Orange though. The worst of it is that the sun never shines on you; even on the best days there is a smoky fog, and the sun just shows like a red disc low down on the horizon. Things are not looking too well. Prices are going up all the time.