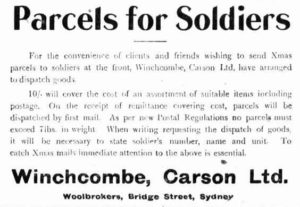 While There's A War by Dryblower (Edwin Greenslade Murphy) of Western Australia
When you're finished perusing the paper,
And cheering our boys —from a chair,
When you're laughing at Ludendorff's caper
On the gore-soddened ground and the air;
When your chop you've contentedly eaten
With your omelet and cafe au vin.
When Britain, you know, can't be beaten
And we're blowing our way to Berlin,
Though we weren't the first to begin it,
It knocks at our national core,
So sacrifice something to win it
While there's a war.

Four years has it lasted, or nearly,
Four years of massacre mad—
Years when the Boches paid dearly
For each blood-reddened raid that they've had.
For years Britain's best they've bombarded,
The Belgians, Australians and French,
For the long road to London's been guarded
By battleship, trawler and trench.
They are there that the free man shall hear not
The boot of the Bosche at his door,
So at men who are saving you, sneer not
While there's a war.

Their part they're in patience performing,
They freeze in the flood lands of France,
While your well-fed proportions are warming,
And patronise pictures, and dance.
They face every vileness invented,
Each horror that hell could release
With their blood each success is cemented,
Their bones are the bulwarks of peace,
They gasp in a gas sodden crater
While in civilised comfort you snore—
Remember you're but a spectator
While there's a war.

If you can't take your pack and a rifle,
And face the Hun murder machines,
If your lungs aren't suited to stifle
In the mazes of tunnelled Messines
You can help, though you're far from the fighting,
And the rumble of garrulous guns,
By the wrongs of the warriors righting
Who give hurry-up to the Huns.
Even blacks first discovered by Stanley
Leave their babes by a safe Afric shore,
So make up your mind to be manly
While there's a war.

You, who have never enlisted
And are wooing a warrior's wife:
You, who traitorously twisted
On the mate you have known all your life:
You're earning no medals and crosses
This side of the safety-zone sea,
And if you don't deal in divorces
Go East from the smile of the She,
Peace in the end may re-link 'em.
When the world-splitting struggle is o'er,
So dammit, just try to be dinkum
While there's a war.