13 September 1917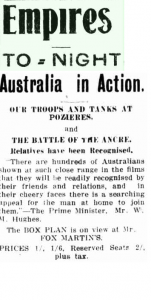 The Empire Theatre in Orange hosts the film Australia in Action. According to Prime Minister Billy Hughes:
There are hundreds of Australians shown at such close range in the films that they will be readily recognised by their friends and relations, and in their cheery faces there is a searching appeal for the man at home to join them.
This entry was posted on September 13th, 2017.