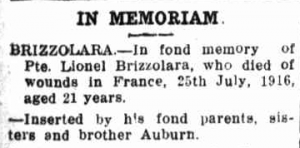 Lionel Brizzolara's family observes the anniversary of his death in action in the Battle of Pozieres
French troops on the Western Front repel a German counter-attack north of the Aisne
The Russian retreat in East Galicia continues; with more towns evacuated, and positions in the Carpathians abandoned
Allied representatives assemble in Paris to discuss the Balkan situation. Military, naval and political committees discuss plans in view of the probable collapse of Russia,
A French military court convicts Dutch-born dancer and courtesan Margaretha Zelle (better known by her stage name, Mata Hari) of spying for Germany. She is subsequently sentenced to execution by firing squad. Mata Hari Sentenced To Die
This entry was posted on July 25th, 2017.